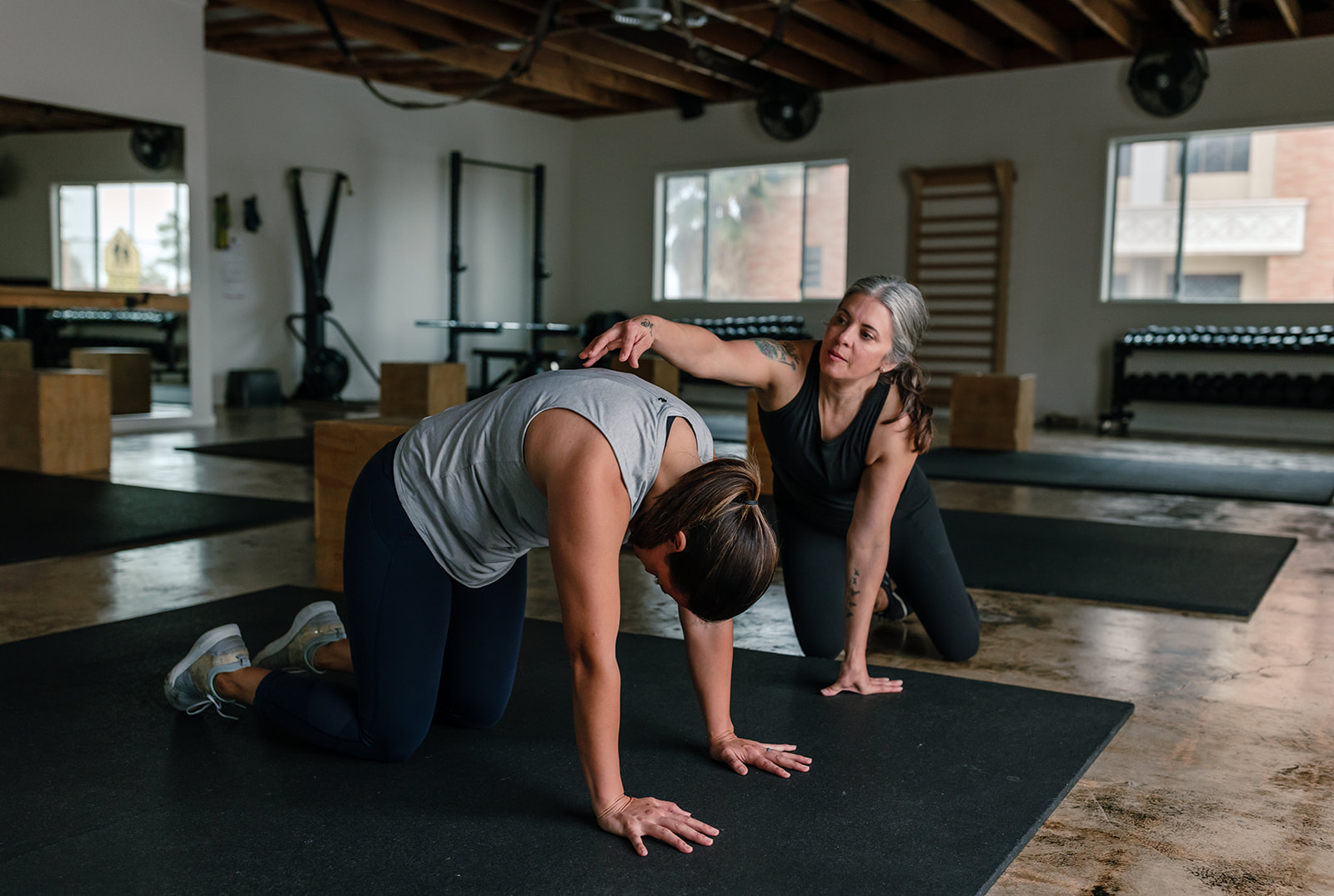 San Diego Mobility Training & FRC Coach
Mobility is an important aspect of health and fitness for anyone. At MVMNT Studio, mobility training is a key component in every client's fitness plan. Keep reading to learn more about why we place a premium on mobility, then call or send us a message to schedule your free consultation.
What is Mobility Training?
Mobility refers to the amount of active, usable motion that is available in a joint. The more mobile a person is, the more they are able to move safely, efficiently, and effectively – essentially creating "bullet proof" joints. This process of safe-guarding your joints through specialized mobility training leads to a reduction of pain and injury and increases your ability to move freely and easily.
What Are Examples of Mobility Training?
When people hear the word mobility, many people mistakenly think of flexibility. While stretching is a method of increasing flexibility, mobility training is more active than passive stretching – some call it Functional Mobility. This refers to your ability to move comfortably in your environment and complete your daily tasks.
One example of a mobility exercise would be a seated 90/90. Working internal and external range in this position works to increase hip mobility, which increases your stability and strength.
What are the Benefits of Mobility Exercises?
Every fitness client can benefit from mobility training. The benefits of mobility training include:
Pain reduction
Increased range of motion
Improved technique
Helps with tightness, tension, and knots
Reduces joint deterioration
Better circulation
Improved posture
Who Should Do Mobility Exercises?
Athletes
An immoble joint is a weak joint. And loading a weak joint is a recipe for pain and injury. Learn to optimize your training by not only getting stronger, faster, more agile – but actually enhancing your training through joint-specific mobility work. Mobility has been shown to improve all around functional fitness and maximize performance.
Pregnancy/Postpartum
While pregnancy and postpartum hormones may have you feeling like Elasta-girl, your joints may not actually be ready for the range you feel like they have. Learn to control your joints, enhance your movement and get stronger, all while growing that little Incredible! You'll feel better during pregnancy and after. Ask about our pre and postnatal mobility programs during your free assessment.
Peri/Menopause
The second half of life shouldn't mean a second-rate body. There's never been a better time to increase the range of motion in your joints – moving and feeling better – than right now. Mobility has been shown to help mitigate the decrease in balance that some women experience later in life. Together, let's get you moving more and hurting less – it's possible. I promise.
Reach out to schedule your free assessment today.
Functional Range Conditioning
Functional Range Conditioning (FRC®) is a system of joint health optimization based on scientific principles and research. FRC utilizes 3 training goals:
Mobility Development
Joint Strength
Body Control
One of the tools used at MVMNT Studio is CARs (Controlled Articular Rotations). CARs are helpful in achieving mobility by incorporating active rotation movements at the outer limits of your range of motion. By going through each individual joint slowly, you can stimulate particular adaptations.
Coach Robin is a certified FRC Mobility Specialist and incorporates this comprehensive joint training system into the programs of all of her clients. Areas of the body that are targeted with FRC training include:
Neck Mobility
Shoulder Mobility
Spinal Mobility
Scapular Mobility
Hip Mobility
Knee Mobility
Ankle Mobility
Speak With a Mobility Specialist in San Diego
If you are intrigued by the many benefits and applications for mobility training, contact our gym today. Coach Robin offers free movement assessments for every client where she will hear about your goals and discuss options for a custom fitness plan. To get started with San Diego mobility training, fill out this form.